Whenever you have a long walk ahead, just hop on the E-Scooter S7500 Plus and you'll get there in minutes. Enjoy the urban landscape from a different perspective. No traffic jams, no packed public transport, just cruising at a speed of up to 25 km/h. And, if you're planning to travel even further, simply fold it up and jump on the bus. With 8.5″ tubeless tyres, you'll never get a puncture and you'll glide effortlessly over bumps. Plus, to keep you safe on the road, there are powerful disc brakes and LED lights.
Kick off and zip along at speeds of up to 25 km/h. The powerful 350W motor easily gets you up hills and regenerative braking means the battery gets extra juice each time you brake. The maximum range of 25 km is more than enough to commute to work, school or get about in your free time. On the easy-to-read display, you'll clearly see all you need to know, such as distance travelled, battery status and mode (Eco or Sport).
Kick off and zoom away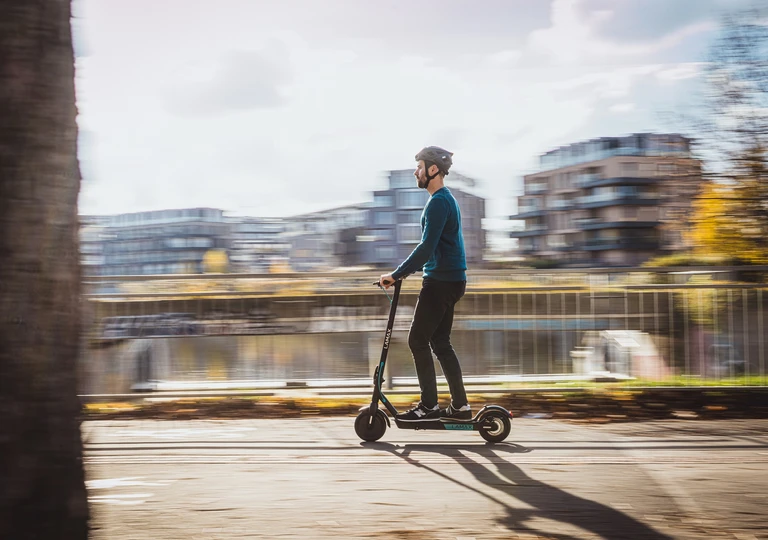 Safely to your destination
There is no shortage of unexpected situations when riding in the city, which is why our E-Scooter S7500 Plus is packed full of safety features. A high-quality, high-efficiency brake is fundamental, so we've fitted the scooter with a top-of-the-range disc brake, which, unlike electric brakes, stops the instant you press the lever. When braking, the rear LED light flashes, alerting those behind you and the front LED headlight clearly lights up your way when you're out after dark. Plus, there is a kick start option to protect you and the surroundings if you accidentally press the throttle at a standstill.
Connects to a mobile app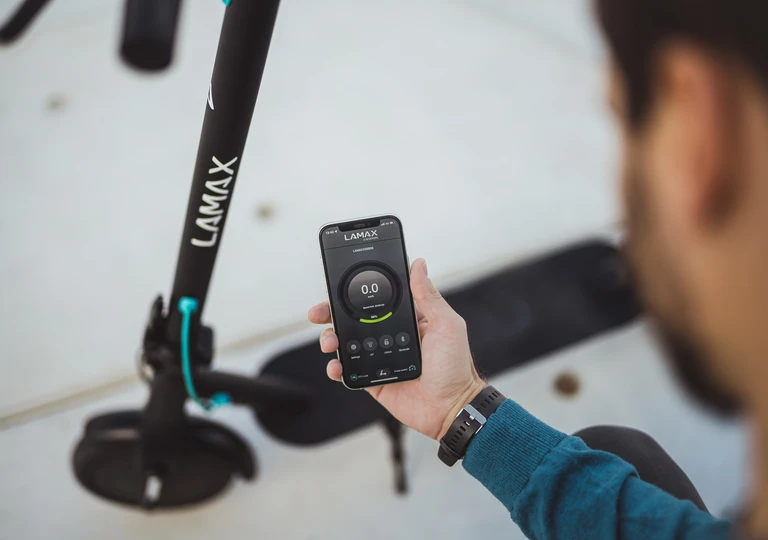 It's lightweight with a rubberized deck, cruise control and connects to a smartphone app - just a few reasons to choose a LAMAX scooter. In the app, you can see the battery status and lock the scooter. Weighing just 13 kg, it's easy to carry and you'll appreciate cruise control for longer rides when you won't have to squeeze the throttle. The high-quality deck is non-slip, dampens vibrations and easy to clean. Simply the perfect kit for urban life.
Easy to carry

25 km range thanks to Smart Power Management
With so many kilometres, you can easily take a detour on the way from work or school. Or take a trip. Thanks to Smart Power Management, you can squeeze much more out of the scooter than in the comparable competition.

Powerful 350W motor can also handle climbs
Fast acceleration and hill climbing are a matter of course. Thanks to the higher power of 350 W, a 15° hill won't even stop you. Don't be afraid to help the scooter out a bit on the steeper climbs, the battery will be grateful.
8.5″ puncture-proof tyres
Leave the pump at home. 8.5″ tubeless tyres never get a puncture and it ensures a smooth ride on any surface.
Maximum 25 km/h
Switch to sports mode, enjoy riding at speeds of up to 25 km/h and avoid the traffic jams. You'll get around the city in no time.

7,500 mAh battery with regenerative braking
Whenever riding downhill and braking, energy is returned to the large-capacity 7,500 mAh battery, delivering great range. Efficient and environmentally friendly.
Disc brake
An efficient disc brake stops you in a few metres. It is operated by lever, so the scooter starts to brake as soon as it is pressed.

Mobile app
Keep your scooter under your control. You can easily lock it from the mobile app, set cruise control, adjust the maximum speed, or check the range, statistics and mileage.
Automatic cruise control
After ten seconds of driving above the set speed, cruise control is activated so that you can release the throttle - the scooter will run on its own until you brake. Ideal for straight sections, for example on a bike path. You can switch off cruise control in the application at any time.

Maximum comfort and safety
Riding is not just about reaching your destination. For maximum comfort, we've raised the handlebars to make them easier to operate for taller people. Plus, with the kick start option, the motor only activates at 5 km/h, ensuring your scooter won't shoot forward if you accidentally hit the throttle.

Reflective components
Great visibility at night. In addition to the main LED headlight and rear light, we've added reflective safety strips to the sides of the wheels.
| | |
| --- | --- |
| | 350 W |
| | 25 km/h |
| | 7500 mAh (270 Wh) |
| | Lithium battery |
| | ECO - max 18 km/h, Sport - max 25 km/h (adjustable in app) |
| | 25 km* |
| | 8,5" (tubeless tires - maintenance-free and puncture-proof) |
| | Mechanical disc brake |
| | 13 kg |
| | 100 kg |
| | |
| --- | --- |
| | aluminium |
| | 15° |
| | 110 × 43 × 48 cm (length, width, height) |
| | 110 × 43 × 120 cm (length, width, height) |
| | 118 cm |
| | 14 × 15 × 61 cm (height, width, length) |
| | Black |
| Recommended rider requirements | Height 130–190 cm, Weight <100 kg, Age 14–60 years |
| | YES |
| | See icon for more information |
| | See icon for more information |
| | See icon for more information |
| | See icon for more information |
| | See icon for more information |
| | | | | |
| --- | --- | --- | --- | --- |
| | LAMAX eRacer SC50 | LAMAX eLander SA50 | LAMAX E-Scooter S11600 | LAMAX E-Scooter S7500 Plus |
| Price | 29.990,- Kč | 24.990,- Kč | 12.990,- Kč | 10.990,- Kč |
| Performance | 1000 W | 500 W | 350 W | 350 W |
| Battery capacity | 60V / 14.5Ah (870 Wh) | 48V/15Ah (720 Wh) | 36V/11.6Ah (418 Wh) | 36V/7.5Ah (270 Wh) |
| Maximum speed | 25 km/h | 25 km/h | 25 km/h | 25 km/h |
| Speed achieved on a closed-off race track | 60 km/h** | 35 km/h** | | |
| Maximum range | 70 km* | 70 km* | 40 km* | 25 km* |
| Wheels | 10" (vzduchem plněné pneu) | 12" (vzduchem plněné pneu) | 10" (bezdefektové pneu) | 8,5" (bezdefektové pneu) |
| Weight | 29 kg | 22 kg | 15 kg | 13 kg |
| Maximum load | 120 kg | 120 kg | 120 kg | 100 kg |
| Dimensions (folded) | 127×65×60 cm | 124×63×58 cm | 115×43×51 cm | 110×43×48 cm |
| Dimensions (unfolded) | 127×65×126 cm | 124×63×120 cm | 115×43×120 cm | 110×43×120 cm |