The perfect excuse for outdoor adventures
This electric four-wheeler can convince even the most stubborn to venture outside. With a range of up to 20 km, a top speed of 25 km/h, exceptional stability, and a powerful 1000 W motor, your child will enjoy exhilarating rides uphill and off-road, and safely, thanks to the front and rear disc brakes. The quiet and eco-friendly electric motor won't disturb the tranquillity of the neighbourhood, while the sleek design, complete with stylish LEDs, will let everyone know who owns the streets.
Be it asphalt, grass, clay, or gravel, this quad's 1000 W motor handles it all with ease. A top speed of 25 km/h means serious business, but parents can limit it to 6 or 15 km/h for added safety. Its sturdy construction and superior craftsmanship can withstand rough handling, but for junior riders, we recommend the stylish matching helmet and to always supervise their fun. The fully charged 12,000 mAh battery promises about an hour and a half of continuous enjoyment.
Maximum speed can be limited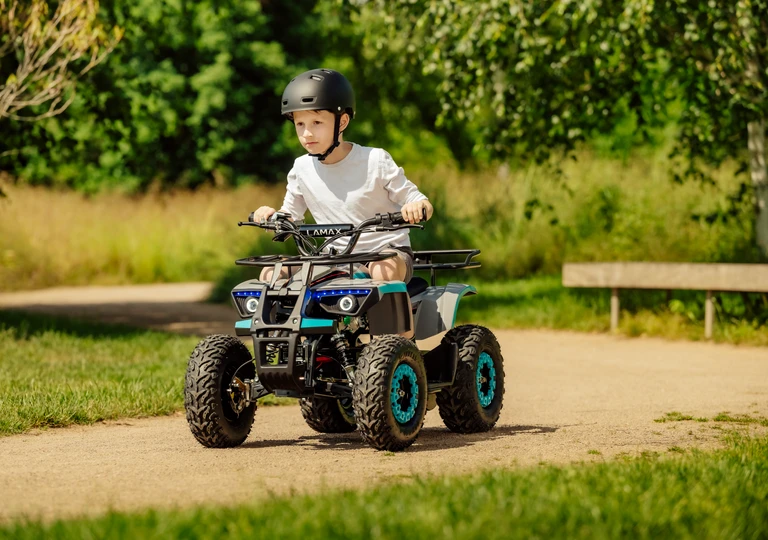 Off-road ready, packed for fun
With 6" wheels, your child will feel like they're driving a real monster truck - high, stable, and super safe. The extra durable body protects against damage and the suspension adds comfort. The front and rear shock absorbers can be adjusted to your child's weight as they grow, and with reliable disc brakes and compact dimensions of 115 × 65 × 69 cm, this ATV is easy to pack for a trip to the countryside.
Large and durable tyres
The LAMAX eTiger boasts LED headlights and colour-coordinated stripes on the ATV, creating a striking machine that is sure to turn heads. The refined design and attention to detail ensure a memorable and worthwhile ride every time.
Modern design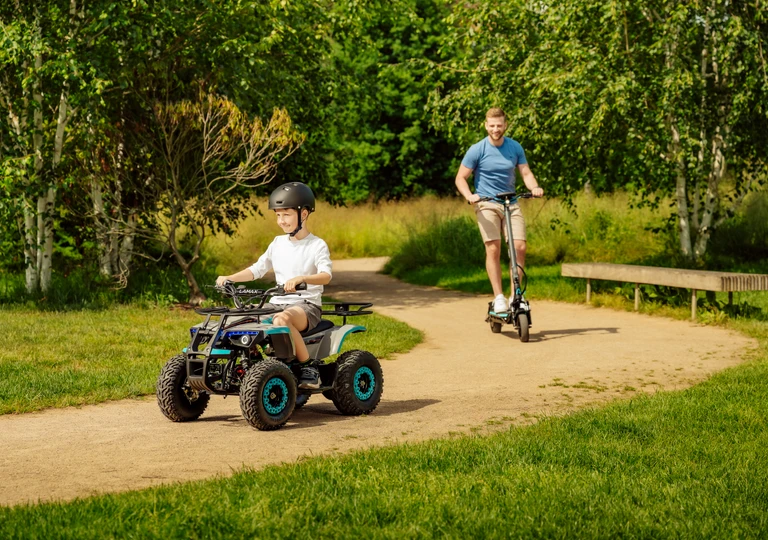 Free assembly, adjustment and testing
Newly, you no longer have to spend hours on complicated assembly. With our new service, we'll deliver your ATV to you fully assembled, adjusted and tested so you can set off on your adventure as soon as possible.

Long range
Up to 20 km allows your child to explore beyond the usual boundaries. Perfect for family walks, fun in nature, or a trip to the local ice cream shop.

Powerful 1000 W motor and battery
1000 W motor and high-quality 12,000 mAh battery offer up to an hour and a half of driving fun.
Maximum speed 25 km/h
When the driver steps on it, they can reach speeds up to 28 km/h.

Speed limiter
The safety of children is always our first priority, which is why the quad bike is equipped with a speed limiter. So if your little racer is a beginner, simply limit their speed to 6 or 15 km/h.

Front and rear shocks
Both front and rear shock absorbers can be adjusted to match the weight of your child. The ATV can carry up to 65 kg.
Brakes
Thanks to two front and one rear perforated disc brakes, the four-wheeler has a reliable braking system, so that your little racer's ride will be as safe as possible.
Durable 6" tyres
Thorns, sharp stones and who knows what else. No more punctures. These six-inchers with puncture protection will fly in any terrain.

LED lights
Taking care of your children's safety is our priority. It is important to make yourself known while driving. Thanks to the bright LED lights at the front, the little racer will always be seen.

Rugged outdoor design
The solid and robust build is suitable for all conditions. Its compact dimensions of 115 x 65 x 69 cm make it convenient for play and transport, fitting comfortably in the trunk of your car. It's the ideal choice for weekend getaways.
| | |
| --- | --- |
| | 1000 W |
| | Brush |
| | Automatic - forward/reverse |
| | 48V / 12Ah |
| | Lead-acid |
| | 25 km/h |
| | 1) 6 km/h 2) 15 km/h 3) 25 km/h |
| | 20 km* |
| | 6" / 6" (pneumatic tires) |
| | 2 x disc - mechanical |
| | |
| --- | --- |
| | 1 x disc - mechanical |
| | Gray (Turquoise / Orange) |
| | 57 kg |
| | 65 kg |
| | 115 x 65 x 69 cm (length, width, height) |
| | 103 x 62 x 50 cm (length, width, height) |
| Handlebar height from ground | 68 cm |
| Height of footrest from ground | 18 cm |
| Height of the saddle from ground | 47 cm |
| Height of the saddle from footrest | 30 cm |
| | 57 cm |
| | 64 cm |
| | 66 cm |
| | 14 x 4.10-6 |
| | 14 x 5.10-6 |
| | 2 x suspension |
| | 1 x suspension - adjustable stiffness |
| Recommended rider requirements | Height 110-140 cm, weight <65 kg, age 5-9 years |
| Battery charge status indicator | LCD |
| | See icon for more information |
| | See icon for more information |
| Free assembly, adjustment and testing | Only from us you will get a quad bike already assembled, adjusted and tested. |
* The data on the maximum range is an approximate value that can be achieved under absolutely ideal conditions (flat terrain, constant speed - not at full power, no wind, correct tyre pressure, no payload, ambient temperature 20 °C). In practice, the range is to a large extent influenced by the weight of the driver and other cargo, the height gradient overcome while driving, weather conditions, road condition, driving style, frequency of starts, condition of tyres (especially their inflation), condition of battery wear and many other factors. In extreme conditions, the range can be reduced to less than 50% of the stated value.