Electric riding from an early age
Introducing the LAMAX eTiger ATV40S, an electric quad for the young thrill-seekers aged three to seven. Forget about those stubborn "I don't want to go outside" moments. With up to 1.5 hours of fun, stylish design, and a top speed of 25 km/h, every outing becomes an exciting adventure. The quiet 800 W electric motor ensures the fun isn't interrupted, not even by a grumpy neighbour. Children's safety is paramount, hence the top-quality disc brakes and automatic braking system that safely stops even the fastest ride.
Imagine zooming about at 25 km/h - what a thrilling experience for your young one! Fear not, as a responsible parent, you can limit the speed using a key. You can set the speed to suit the child's abilities. The 800 W motor can swiftly take your child up the steepest hill, thanks to the low weight of the rider. And coming back down? The front and rear disc brakes are sensitive and responsive. Plus, the auto-braking system ensures the quad slows down as soon as the throttle is released, further enhancing safety.
Maximum speed can be limited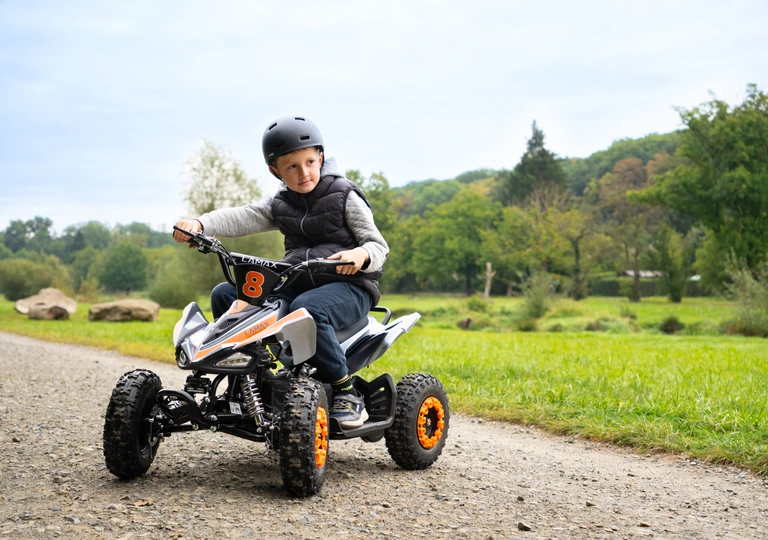 Due to its compact size, the quad easily fits in your car's trunk, perfect for those weekend getaways. The six-inch tyres can handle more than just smooth asphalt; they can tackle gravel and other tough terrains. Plus, the extra-reinforced tyres eliminate concerns about punctures. With a reliable 12Ah battery, expect up to 20 km of range and 1.5 hours of uninterrupted fun. Also, the adjustable shock absorbers provide an extra layer of customization as your child grows.
Large and durable tyres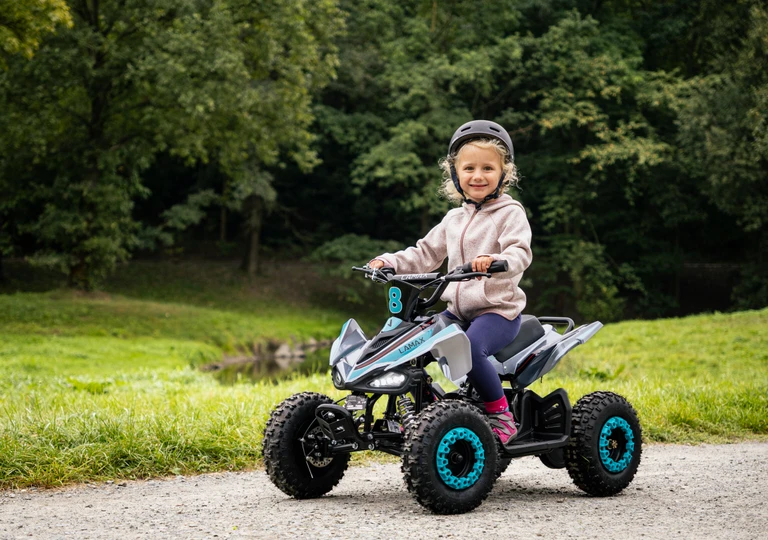 Features abound - designed to impress
Is it the toughest machine in the neighbourhood? Probably! With a tuning master's design, a loud horn, and a large front LED light for evening rides, this quad is sure to turn heads. The stylish design is complemented by a robust construction and LED battery indicator, ensuring your child never gets stuck midway on their journey.
Modern design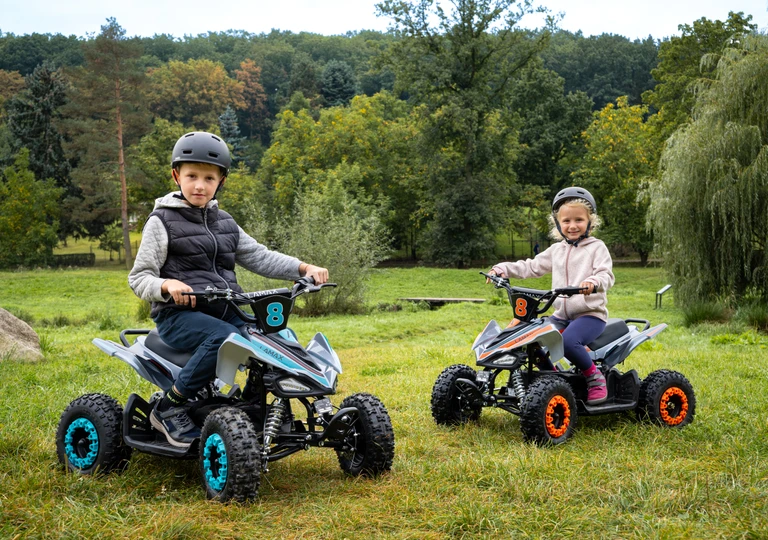 Free assembly, adjustment and testing
Newly, you no longer have to spend hours on complicated assembly. With our new service, we'll deliver your ATV to you fully assembled, adjusted and tested so you can set off on your adventure as soon as possible.

Long range
Up to 20 km allows your child to explore beyond the usual boundaries. Perfect for family walks, fun in nature, or a trip to the local ice cream shop.

Powerful 1000 W motor and battery
1000 W motor and high-quality 12,000 mAh battery offer up to an hour and a half of driving fun.
Maximum speed 25 km/h
When the driver steps on it, they can reach speeds up to 28 km/h.

Speed limiter
The safety of children is always our first priority, which is why the quad bike is equipped with a speed limiter. So if your little racer is a beginner, simply limit their speed to 6 or 15 km/h.

Front and rear shocks
Both front and rear shock absorbers can be adjusted to match the weight of your child. The ATV can carry up to 65 kg.
Brakes
Thanks to two front and one rear perforated disc brakes, the four-wheeler has a reliable braking system, so that your little racer's ride will be as safe as possible.
Durable 6" tyres
Thorns, sharp stones and who knows what else. No more punctures. These six-inchers with puncture protection will fly in any terrain.

LED lights
Taking care of your children's safety is our priority. It is important to make yourself known while driving. Thanks to the bright LED lights at the front, the little racer will always be seen.

Rugged outdoor design
The solid and robust build is suitable for all conditions. Its compact dimensions of 115 x 65 x 69 cm make it convenient for play and transport, fitting comfortably in the trunk of your car. It's the ideal choice for weekend getaways.
| | |
| --- | --- |
| | 1000 W |
| | Brush |
| | Automatic - forward/reverse |
| | 48V / 12Ah |
| | Lead-acid |
| | 25 km/h |
| | 1) 6 km/h 2) 15 km/h 3) 25 km/h |
| | 20 km* |
| | 6" / 6" (pneumatic tires) |
| | 2 x disc - mechanical |
| | |
| --- | --- |
| | 1 x disc - mechanical |
| | Gray (Turquoise / Orange) |
| | 57 kg |
| | 65 kg |
| | 115 x 65 x 69 cm (length, width, height) |
| | 103 x 62 x 50 cm (length, width, height) |
| Handlebar height from ground | 68 cm |
| Height of footrest from ground | 18 cm |
| Height of the saddle from ground | 47 cm |
| Height of the saddle from footrest | 30 cm |
| | 57 cm |
| | 64 cm |
| | 66 cm |
| | 14 x 4.10-6 |
| | 14 x 5.10-6 |
| | 2 x suspension |
| | 1 x suspension - adjustable stiffness |
| Recommended rider requirements | Height 110-140 cm, weight <65 kg, age 5-9 years |
| Battery charge status indicator | LCD |
| | See icon for more information |
| | See icon for more information |
| Free assembly, adjustment and testing | Only from us you will get a quad bike already assembled, adjusted and tested. |
* The stated maximum range is an approximate value under ideal conditions (flat terrain, constant speed, no wind, correct tire pressure, no payload, ambient temperature 20 °C). The actual range may vary due to factors such as driver weight, gradient, weather, road condition, driving style, tire inflation, and battery condition.