The ultimate scooter for your ride
Faster, more powerful and above all - more fun!  The new generation of LAMAX scooters is in a class of its own. And you will be too! Just hop on, grab the throttle, and the powerful 1,000 W motor will launch your day into overdrive. Whether you're riding between meetings, rushing to a lecture or simply cruising for fun, the range up to 70 km opens up a world of possibilities. Navigate through the city streets at a zippy 25 km/h, or break free on private roads with speeds reaching up to 60 km/h! Take on any terrain, from hilly slopes to cobblestones or even pothole-ridden roads, all thanks to the suspension and 10-inch air-filled wheels. Stay in control at all times with the scooter's dual mechanical and electronic braking system. So, are you ready to hop on?
Safe & sound even on the road
The LAMAX eRacer SC50 equips you with first-rate safety features, guaranteeing a secure ride to your destination every time. The comprehensive lighting system, including powerful front and rear lights along with side LEDs, makes sure you remain visible in any traffic situation, even in the darkest of nights. Beyond enhancing your visibility, these lights automatically turn on in the dark or in a tunnel, illuminating your path without any manual intervention. With in-built indicators, signalling turns become effortless, keeping you in clear communication with fellow road users. The wide handlebars and generously spacious deck provide stability and assurance throughout your journey. As for braking, the scooter employs a formidable mix of disc, drum, and electronic brakes, promising swift and safe stops in the face of any obstacle. 
Security and stability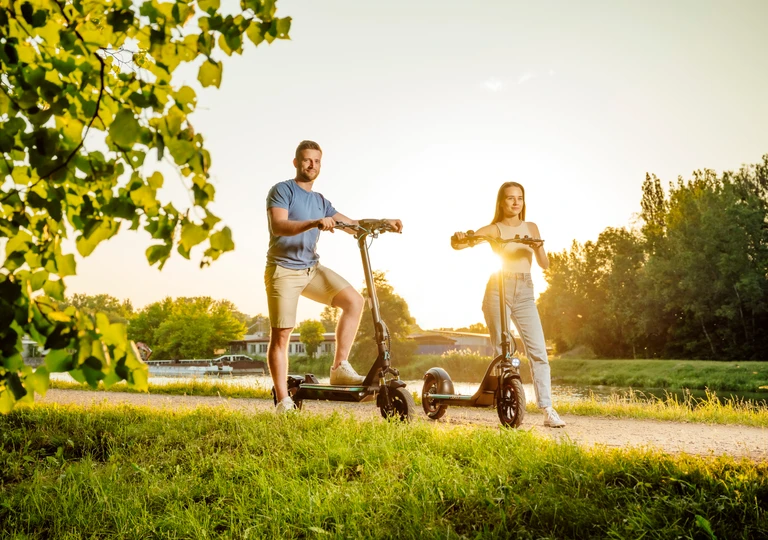 Smoothing the path to your destination
Be it a rough patch of cobbles or a sleek stretch of asphalt, you'll glide seamlessly on all surfaces. Thanks to the scooter's 10-inch air-filled tyres complemented by front and rear suspension systems, even the most uneven terrains feel smooth. Coupled with a powerful motor capable of tackling the steepest hills, the eRacer SC50 ensures no terrain is off-limits. With an impressive battery and energy regeneration capabilities, the range is to 70 kilometres, conserving energy and contributing to a greener planet, as well as bypassing the discomfort of crowded public transport. Choose from 4 driving modes to suit your mood or situation and experience the thrill of a sporty dash or a leisurely cruise.
Handles light terrain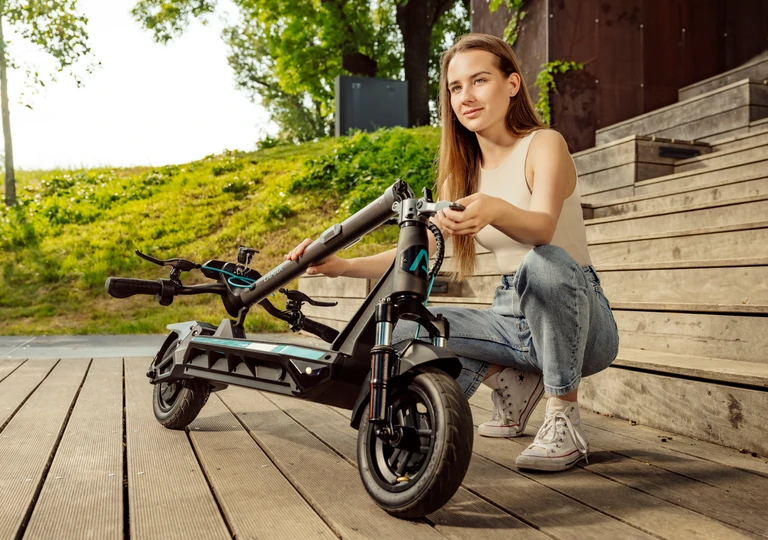 Smart features for an easy life
At a single glance, you're all set - the large bright colour display ensures you have all the essential information at your fingertips while you ride. Even under bright sunlight, the screen remains crystal clear. Need to hitch a car ride or want to be considerate to your work colleagues? The eRacer folds up in just three seconds and can be carried effortlessly. Are you a tinkerer who loves to customise settings? With our mobile app, you can tailor the scooter's functions to fit your preferences perfectly. To top it all off, the built-in motion sensor and smartphone connectivity offer added security for your ride. Lock the scooter with just a few taps, and rest assured that the built-in alarm will deter any potential thief.
Automatic LED lights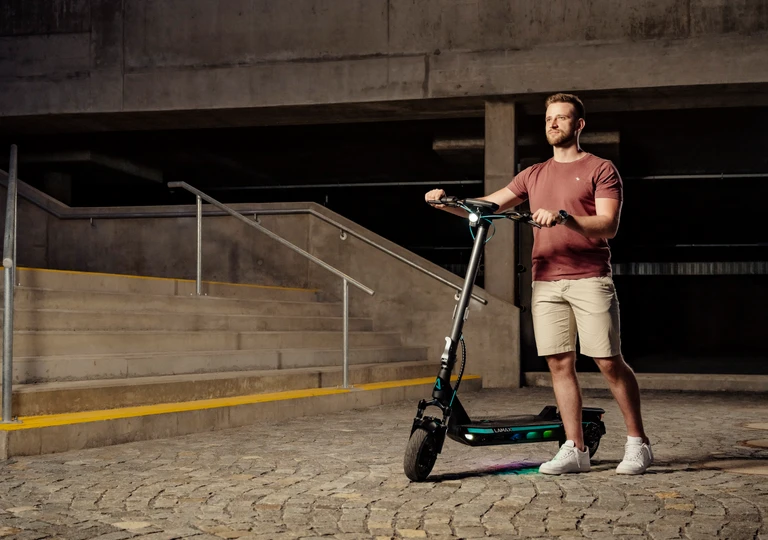 Range up to 70 km
Don't count the distance and enjoy every journey. A massive range of up to 70 kilometres guarantees all-day fun without the need to find a charger.

1000 W motor
Even steep hills won't stop you. The motor, packed with watts, can carry up to 120 kg and won't leave you stranded. You won't find 1000 W easily among the competition and there's four driving modes that will fit every situation.
Maximum speed up to 25 km/h
You'll be cruising through the streets at speeds up to 25 km/h. Off public roads, you can turn off the limiter and unleash up to 60 km/h**! Hit the circuit or track and enjoy the speed.
Large 18 cm colour display
Speed, distance travelled, battery status, driving mode, lights on, indicators - the large LCD display will show you all the crucial information at a glance. Stay informed and track everything at night and in bright sunlight.

Front and rear adjustable suspension
Potholes, cobbles or other uneven surfaces won't disturb your fantastic riding experience. Front and rear wheels with suspension will keep your riding comfort at the highest level.
10-inch wheels with extra durability
Flat tyre? Forget about it. We reinforced the tyres with an extra durable casing against punctures. The rear mudguard is also reinforced so that nothing rattles along the way and lasts for years.

Large 14,500 mAh battery with regeneration
Extend your ride thanks to regeneration. During braking and downhill riding, a portion of energy will automatically return to the large 14,500 mAh battery. The battery is also equipped with an intelligent BMS system, protecting it from short circuits or overcharging.

Control in your pocket thanks to the app
With the mobile app, you can lock your scooter against thieves, set the maximum speed, driving modes, or even cruise control. In the app, you can also track the history of your rides, the highest achieved speed, average speed, adjust the colour side LED lighting according to your preferences, and remotely check how much juice you have left.
Automatic cruise control
Facing a long straight path? Would you like to enjoy the comfort of cruise control, just like modern cars have? After a few seconds above your set speed, your scooter will switch to automatic cruise control, so you can release the lever. Isn't that great?
Triple braking system
It goes fast, but it brakes even faster. The combination of a front drum brake and a rear disc brake ensures a short braking distance. Mechanical brakes are also complemented by electronic ones, which assist with regeneration.
| | |
| --- | --- |
| | 1000 W |
| | 60V / 14,5Ah (870Wh) |
| | Lithium-ion |
| | 25 km/h** |
| | P: 6 km/h (walking mode) / E: 15 km/h / D: 20 km/h / S: 25 km/h |
| | 70 km* |
| | 10" (pneumatic tyres) |
| | Front drum, rear disc brake + electronic brake system |
| | 29 kg |
| | 120 kg |
| | |
| --- | --- |
| | 127 × 65 × 60 cm (length, width, height) |
| | 127 × 65 × 126 cm (length, width, height) |
| | 124 cm |
| | 62 × 25 cm (length, width) |
| | 15 cm |
| Recommended rider requirements | Height 130-190 cm, Weight <120 kg, Age 14-60 year |
| | Black |
| | YES (Width 18 cm) |
| | See icon for more information |
| | See icon for more information |
| | See icon for more information |
| | See icon for more information |
| | | | | |
| --- | --- | --- | --- | --- |
| | LAMAX eRacer SC50 | LAMAX eLander SA50 | LAMAX E-Scooter S11600 | LAMAX E-Scooter S7500 Plus |
| Price | 29.990,- Kč | 24.990,- Kč | 12.990,- Kč | 10.990,- Kč |
| Performance | 1000 W | 500 W | 350 W | 350 W |
| Battery capacity | 60V / 14.5Ah (870 Wh) | 48V/15Ah (720 Wh) | 36V/11.6Ah (418 Wh) | 36V/7.5Ah (270 Wh) |
| Maximum speed | 25 km/h | 25 km/h | 25 km/h | 25 km/h |
| Speed achieved on a closed-off race track | 60 km/h** | 35 km/h** | | |
| Maximum range | 70 km* | 70 km* | 40 km* | 25 km* |
| Wheels | 10" (vzduchem plněné pneu) | 12" (vzduchem plněné pneu) | 10" (bezdefektové pneu) | 8,5" (bezdefektové pneu) |
| Weight | 29 kg | 22 kg | 15 kg | 13 kg |
| Maximum load | 120 kg | 120 kg | 120 kg | 100 kg |
| Dimensions (folded) | 127×65×60 cm | 124×63×58 cm | 115×43×51 cm | 110×43×48 cm |
| Dimensions (unfolded) | 127×65×126 cm | 124×63×120 cm | 115×43×120 cm | 110×43×120 cm |
* The data on the maximum range gives an indicative value that can be achieved under absolutely ideal conditions (flat terrain, constant speed - not at full power, no wind, correct tyre pressure, driver weight <70 kg, no payload, ambient temperature 20 ° C). In practice, the range is to a large extent influenced by the weight of the driver and other cargo, the height gradient overcome while driving, weather conditions, road condition, driving style, frequency of departures (for example at intersections), condition of tires (especially their inflation), condition of battery wear and many other factors. In extreme conditions, the range can be reduced to less than 50% of the stated value.
** The maximum design speed is 25 km/h. A speed of up to 60 km/h was achieved on the scooter during testing (on a closed circuit, with modified settings of the control unit).
*** Always check your local road traffic laws.