The ultimate first motorbike
The eJumper DB50 goes beyond being a simple toy; it's a supercharged vehicle equipped with an efficient 800 W electric motor, a 20 km range, and able to reach speeds of up to 30 km/h. With its exceptional manoeuvrability, safety features, and standout look, this bike ensures a thrilling ride every time. A word of caution, though: riding the eJumper DB50 can be extremely addictive!
Equipped with a powerful 800 W motor, this bike tackles any hill with impressive agility and speed. Hitting top speeds of up to 30 km/h, it injects a dose of exhilaration into every ride, even for the youngest of riders. The 12,000 mAh battery provides about an hour and a half of fun under full throttle but there's no need to keep a constant eye on the clock - thanks to the LCD display, the rider will always know how much battery life is left.  
Maximum speed can be limited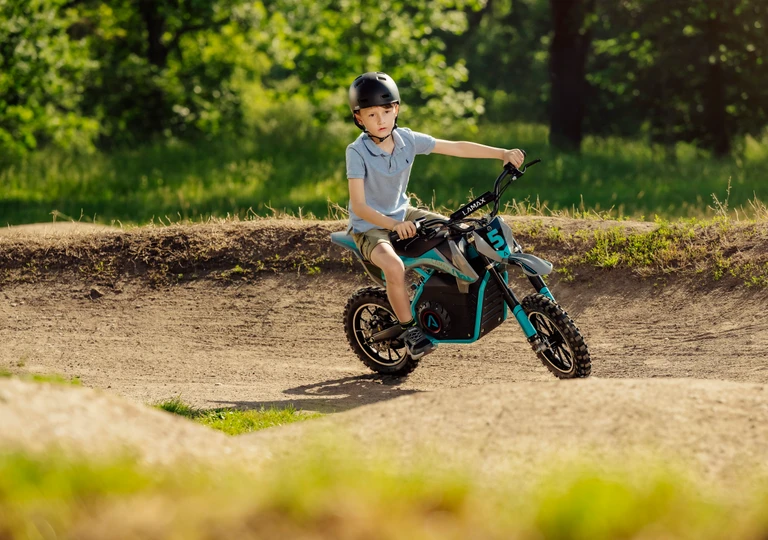 From novice to pro in just a few rides
Echoing the design of a dirt bike, the eJumper is built for off-road adventures. The robust 10" puncture-resistant inflatable tyres ensure stability and confidence, while the front and rear shock absorbers deliver smooth handling over bumpy terrains. With front and rear disc brakes for reliable stopping power and an additional speed limiter of 6 or 15 km/h for added safety, beginners will confidently navigate in just a few rides. 
Great fun for everyone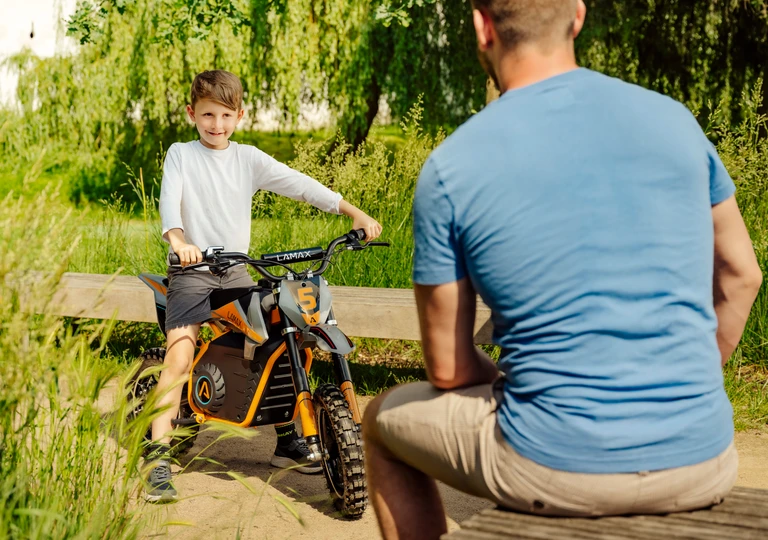 Family weekends will never be the same
Although your little racer is growing, the timeless design of the eJumper DB50 won't age a day. This vehicle is compact, fun, quiet, and eco-friendly. It's the perfect introduction to the world of motorsports. Equipped with a safety feature against accidental startups, it's suitable for all types of terrain. In short, it's a machine that the whole family will appreciate during outings
Quiet and ecological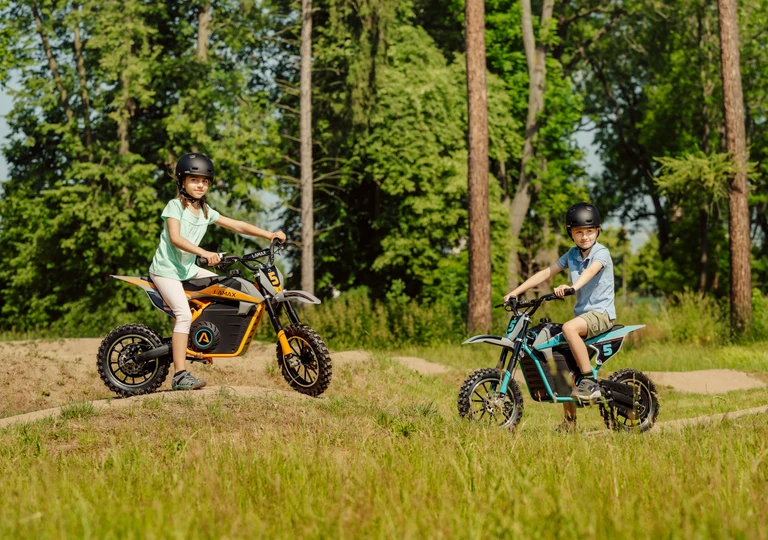 Free assembly, adjustment and testing
Newly, you no longer have to spend hours on complicated assembly. With our new service, we'll deliver your dirtbike to you fully assembled, adjusted and tested so you can set off on your adventure as soon as possible.

Long range up to 20 km
Where will your child's adventures lead? With an impressive range of 20 km, they could find themselves discovering the sights and sounds of the neighbouring village.

Powerful 800 W motor with plenty of juice
With an 800 W motor, it goes like a rocket. Let your little rider step on it and enjoy an hour and a half of non-stop fun, thanks to the 12,000 mAh battery.
Maximum speed up to 30 km
To reach 30 km/h on a pedal bike requires serious effort, but it's a breeze on the eJumper.

Speed limiter
Children's safety is always our top priority, which is why the bike comes equipped with a speed limiter. If your little racer is a beginner, simply use the switch to limit their speed to 6 or 15 km/h. The setting is controlled by a key, which can be removed after adjustment.

Front and rear shocks
The eJumper easily absorbs bumps, even on broken asphalt. The adjustable front and rear shock absorbers provide comfort on all terrain.
Brakes
Thanks to its perforated disc brakes, the bike provides reliable braking performance, ensuring your little racer's ride is as safe as possible.
Reinforced 10" tyres
While flat tyres are usually the rider's fault, it's nearly impossible with these 10" wheels. They're large, extra-reinforced, and durable for a safe ride!

Off-road design
Scramblers are in. And so will be your rider. The refined design and super sturdy construction ensure high-quality fun.

Automatic gears
The motorcycle is automatic so that anyone can control it. Simply turn the throttle and speed off without worrying about shifting.
| | |
| --- | --- |
| | 800 W |
| | 36V / 12Ah |
| | Lead-acid |
| | 30 km/h |
| | 1) 6 km/h 2) 15 km/h 3) 30 km/h |
| | 20 km* |
| | 10" / 10" (pneumatic tyres) |
| | 2 disc brakes |
| | Gray (Turquoise / Orange) |
| | 39 kg |
| | |
| --- | --- |
| | 65 kg |
| | 124 x 63 x 78 mm (length, width, height) |
| | 114 x 31 x 55 cm (length, width, height) |
| Handlebar height from ground | 81 cm |
| Footrest height from ground | 22 cm |
| | 60 cm |
| | 67 cm |
| | Steel |
| | 10" / 10" |
| | 2,5-10 / 33J |
| | 2,5-10 / 33J |
| | Oil dampers |
| | Spring loaded |
| Recommended rider requirements | Height 110-140 cm, weight <65 kg, age 5-10 years |
| | LCD |
| | See icon for more information |
| | See icon for more information |
| Free assembly, adjustment and testing | Only from us you will get a dirtbike already assembled, adjusted and tested. |
* The data on the maximum range indicates an approximate value that can be achieved under absolutely ideal conditions (flat terrain, constant speed - not at full power, no wind, correct tyre pressure, no payload, ambient temperature 20 °C). In practice, the range is influenced by the weight of the driver and other loads, the height gradient while riding, weather conditions, road conditions, driving style, frequency of starts, condition of tyres (especially inflation), battery wear and many other factors. In extreme conditions, the range can be reduced to less than 50% of the stated value.